On May 20th, the second in a series of three ACCT live webinars took place. Let's Talk Society featured invited speakers Professor Anne Cameron, Dr Ilan Koppen and MS Specialist Nurse Roberta Motta and looked at bladder and bowel dysfunction from a societal perspective.
During the webinar the audience was invited to take part in discussions with the speakers through poll-questions and a live Q&A. In this blog post you are invited to take part in their interesting replies as well as view the results from the polls again.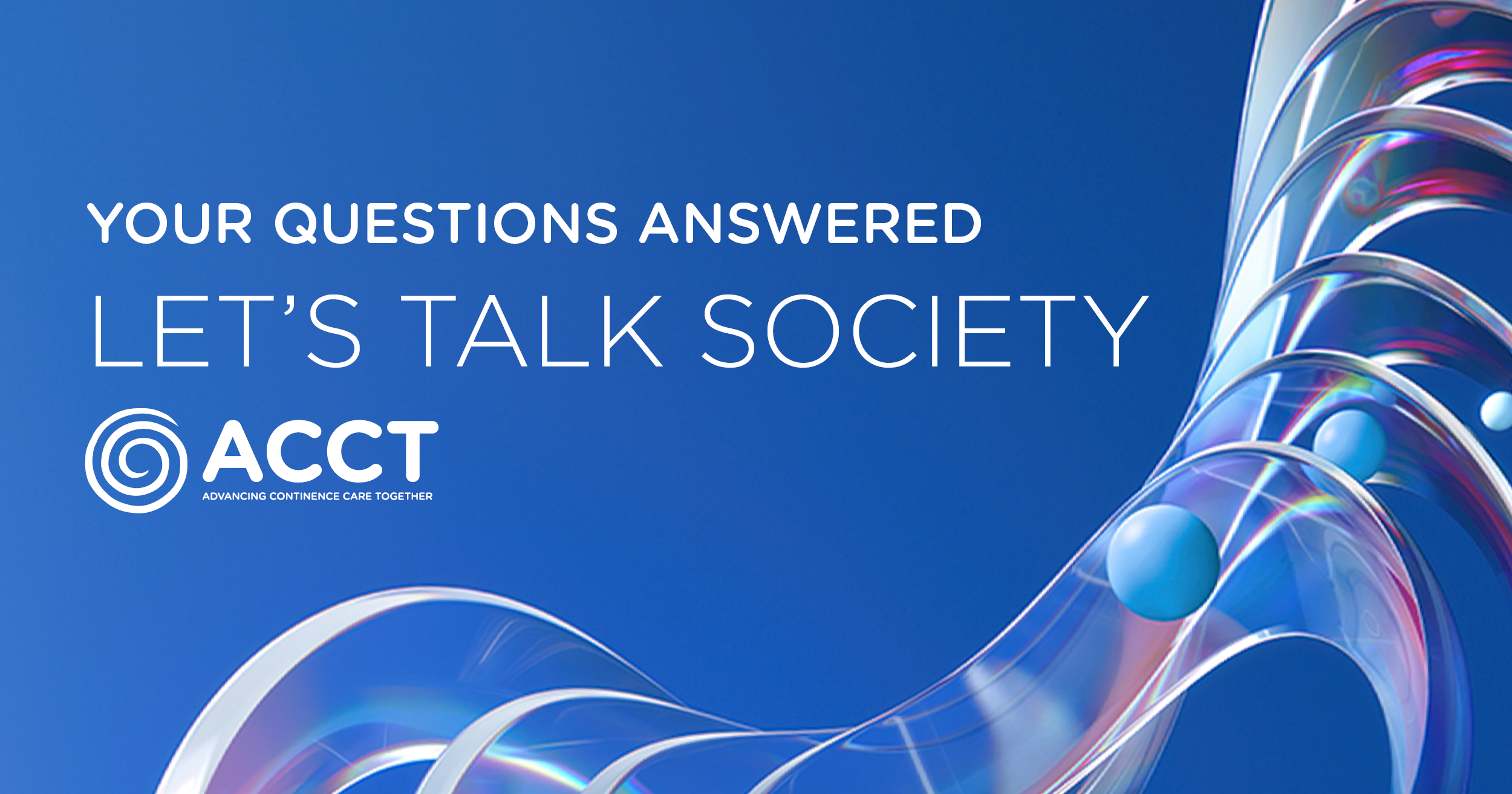 During these current times, globalization is more topical than ever. We approached this important area in the light of bladder and bowel dysfunction to discuss how these issues may affect not only the patient, but the society as a whole.
Professor Anne Cameron provided a global perspective on what may be required in order to be able to reach out with new therapies. The audience at this webinar seemed to be well-educated with a relatively long knowledge/experience of the therapy TAI, the poll question declared that 63% became familiar with TAI more than 5 years ago.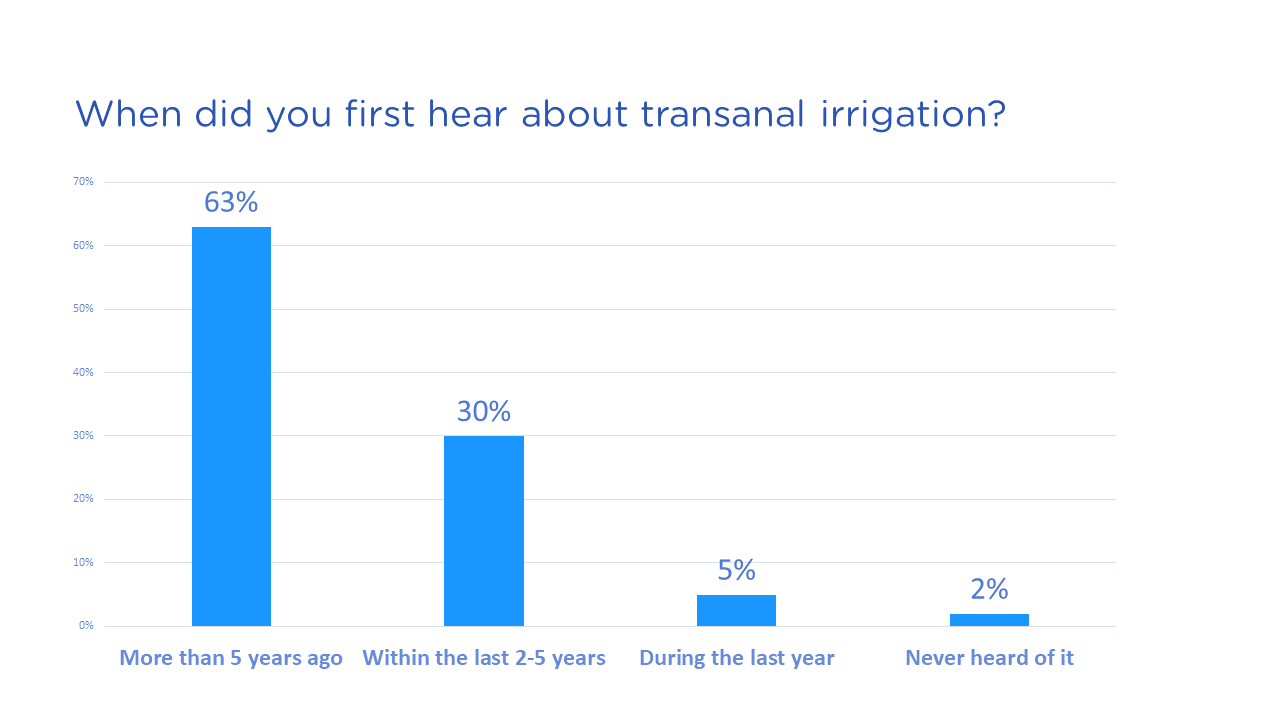 The audience wanted to know what Professor Cameron considers key to increasing the adoption and compliance rate of Transanal Irrigation (TAI)?
She explained that from her point of view the fastest and most efficient way to get more patients using TAI, or any other more complex technology, is to provide fair compensation for the management and teaching of these patients. Having nurses and continence care experts being able to bill/get reimbursed for their time allows them to take the time needed to do a good job.
One of the goals Wellspect has with Advancing Continence Care Together and the "Let's Talk" webinars, is to start talking more about these topics that oftentimes may seem embarrassing.
On this note, a question to Dr. Ilan Koppen from the audience followed: "How do you think we can overcome the stigma and start talking about bowel problems, spreading awareness, and get away from the feeling that this is something to be ashamed of"?
The response to this from Dr. Koppen was: to begin with, we as healthcare practitioners can start to talk openly about it and ask our patients about their bowel habits in a normal way, without being uncomfortable, showing them that it's a normal topic, especially in the doctor's office. Aside from that, I think there have been several successful initiatives in the media to break the silence in my own country, the Netherlands. The topic is being more openly discussed in TV shows, when for example the topic of the human gut microbiome or the lack of public toilets are discussed. Also, for instance, authors of books surrounding this topic (e.g. "Gut: The Inside Story of Our Body's Most Underrated Organ" by Giulia Enders) are being invited to talk about their interests and expertise more often. I think we should applaud that and stimulate it. Moreover, there are initiatives to create awareness for GI-related diseases, think of IBD, having an ostomy, or suffering from abdominal pain. I think this is very important in the process of educating the general public.
An important aspect when advancing continence care together is the use of guidelines and local treatment strategies. In order to investigate what the audience find most important in relation to this, the following poll question was asked:
When you prescribe or recommend a treatment today, what is the main driver for your decision?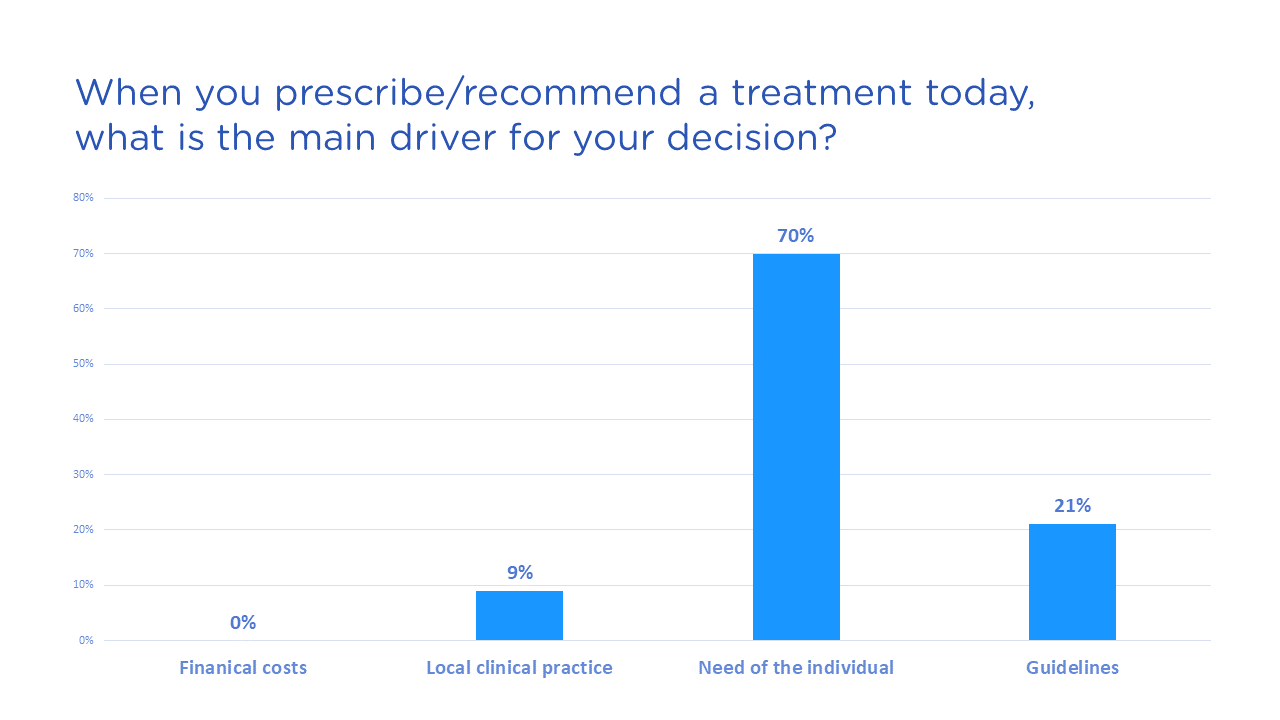 The nurse is the first person the patient will meet when seeking help for bladder and bowel issues, making this role of prominent importance. Asking the right questions, owning competence about both bladder and bowel and using the right vocabulary with the patient is crucial. Specialist nurse Roberta Motta meets a lot of MS patients in her work, a patient group typically suffering from problems both with the bladder and the bowel. She has dedicated 20 years of her life to helping these individuals obtain improved quality of life and showing the benefits of interdisciplinary teams within health care.
Several of the questions from the audience to Specialist Nurse Motta were from nurses wondering what parameters she utilizes and how she chooses which treatment is most appropriate for each individual patient coming to her clinic.
She replied that they use both a bladder and bowel diary together as initial assessment and it is useful to combine the two to see what is most prevalent and if there is any link between for example urinary tract infections and bowel problems. Also, patient reported outcome questionnaires are used, there is for example, an app for smartphones with questionnaires that helps the patient to follow their disease. This is a way to detect that the patients needs are met and working with this kind of smartphone app to follow the disease is the future.
Did you miss the webinar or want to watch it again?
Want to register for our upcoming webinars Let's Talk Society and Let's Talk Science?