We do. At Wellspect, bladder and bowel problems are at the center of our endeavors, and we've made it our mission to remove the stigma around these issues and spread knowledge about the available solutions. One of these is transanal irrigation (TAI). In our ACCT Webinar on February 9th, 15:00-16:00 CET, we have put together an educational program that covers transanal irrigation as a possible therapy to manage constipation and fecal incontinence, with examples taken from the latest scientific research. Don't miss it!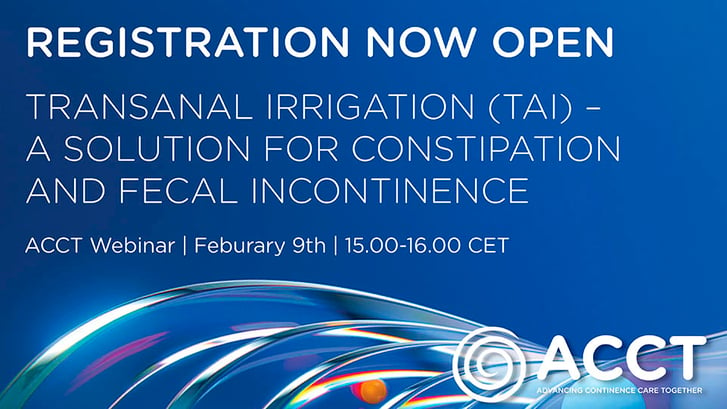 Bowel dysfunction is rarely talked about, even though it is common complaint with serious consequences, like living in isolation for fear of having accidents in public. It is true that management of these symptoms is complex and conservative methods will not always solve symptoms, that's why it is important to spread knowledge about the solutions available. TAI is an established therapy for constipation and fecal incontinence in some patient groups, while it is rarely used in others.
A study into the long-term results of TAI found that approximately 60% continue with treatment at long-term follow-up and resulted in lower rates of stoma surgery, UTIs, and episodes of fecal incontinence with improved quality-adjusted life years compared to conservative bowel care."
Emmanuel, F1000Research 2019, 8(F1000 Faculty Rev):1800
With the support of Professors Jan Tack and Anton Emmanuel, we will present the latest findings of prevalence and management of constipation and fecal incontinence and introduce TAI as a possible option for a wider group of patients. Lead Nurse Bev Collins from Wellspect UK will talk about adherence to the therapy, with particular focus on the importance of following-up to achieve satisfactory results, using examples from her own experience as a nurse.
| | | |
| --- | --- | --- |
| | | |
| Jan Tack | Anton Emmanuel | Bev Collins |
Take the opportunity to learn more about TAI as a possible therapy to manage constipation and fecal incontinence by signing up here: