Storage and voiding symptoms often coexist, affecting up to 59% of individuals with MS. These clinical manifestations impact quality of life and are often associated with depressive symptoms, loss of work productivity, poor sleep quality and, in general, a deterioration in overall health. Problems related to micturition impede many people with MS from fully participating with family, friends and the community.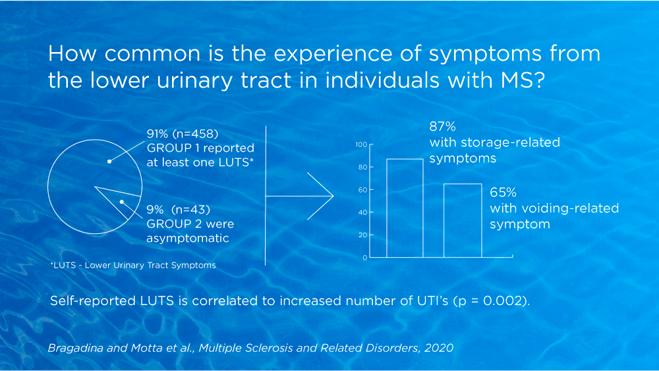 Individuals with multiple sclerosis (MS) often suffer from lower urinary tract symptoms (LUTS) which can have a significant impact on quality of life (QoL). The symptoms often include storage of urine or voiding and can also be a combination of these. The post-void residual (PVR) urine test measures the amount of urine left in the bladder after urination. The aim of the current study was to measure PVR volumes in MS subjects with and without LUTS and to examine relationships between storage symptoms, voiding symptoms and PVR.

501 individuals with MS completed a questionnaire on LUTS describing current bladder management, number of urinary tract infections in the last year and urological investigations.
Based on the LUTS questionnaire, 9% of the individuals were asymptomatic, 91% reported at least one LUTS. Storage symptoms were predominant (87%), but also voiding-related symptoms were commonly reported (65%).

It was also clearly shown that the presence of LUTS correlates with increased frequency of urinary tract infections and that the individuals suffering from LUTS had higher PVR than the asymptomatic group.
Presence of symptoms from the lower urinary tract becomes more common as the disease progresses, thus the severity and duration of MS are risk factors of LUTS. Because of the clear relationship between LUTS, higher PVR and the severity of the disease course, it's suggested that MS patients meeting their clinician should always have an assessment of both neurological and micturition disorders. Besides this, they highlight the importance of PVR measurements at every clinical assessment, despite the presence or absence of LUTS.