Chronic constipation (CC) is a common bowel dysfunction. There are several reasons for bowel dysfunction and several treatment methods, which are addressed in a new review article.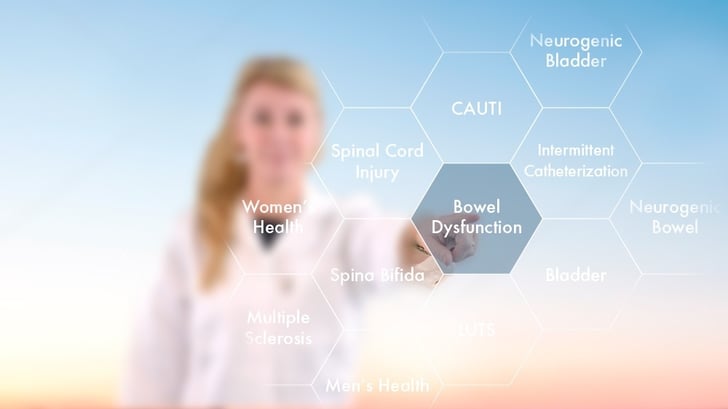 Unfortunately, bowel dysfunction is stigmatized by society and is not much talked about, even with health care practitioners (HCPs). Even though it is known that 50% of people with multiple sclerosis (MS) have some kind of bowel dysfunction, a recent study showed that it is not always addressed by HCPs. Furthermore, bowel symptoms such as constipation and fecal incontinence create great distress for both people with MS and their carers.
Transanal irrigation (TAI) is one bowel management therapy that is successful for some people with bowel dysfunction. Although a new publication show a high drop-out rate after 12 months of follow-up after TAI, the persons who continue with the treatment show an increase in quality of life and a reduction in bowel symptom scores.
---
"It's just horrible": a qualitative study of patients' and carers' experiences of bowel dysfunction in multiple sclerosis.
https://www.ncbi.nlm.nih.gov/pubmed/28550483
Author and Origin
Dibley L, Coggrave M, McClurg D, Woodward S, Norton C. UK
Summary
A qualitative study including patients with multiple sclerosis (MS) and their carers, investigating what it is like to live with bowel problems. The aim is to understand the impact that bowel problems have on their lives.
Conclusions
Participants of the study want bowel issues to be discussed more openly, with clinicians instigating a discussion early after MS diagnosis and repeating enquiries regularly. Patients' experience with care services is often unsatisfactory.
Comments
Qualitative study of healthcare support of bowel dysfunction in MS.

This publication is described further in the highlight section.
---
Prospective evaluation of transanal irrigation for fecal incontinence and constipation.
https://www.ncbi.nlm.nih.gov/pubmed/28550422
Author and Origin
Juul T, Christensen P. Denmark
Summary
A one year prospective study of 507 patients with bowel problems who have been introduced to transanal irrigation (TAI).
Conclusions
Adherence after 12 months was 43%. The main reason for discontinuation was unsatisfactory effectiveness. In those patients who continued, quality of life was increased and bowel function scores decreased.
Comments
Prospective study of patients introduced to TAI.
---
Management of chronic constipation in adults.
http://journals.sagepub.com/doi/10.1177/2050640616663439
Author and Origin
Krogh K, Chiarioni G, Whitehead W. Denmark
Summary
A review covering chronic constipation (CC), including prevalence, pathophysiology and treatment suggestions. Treatments range from lifestyle modifications to surgery.
Conclusions
Chronic constipation is a common condition and most patients should be treated in primary care. However, in some evacuation disorders, rectal irrigation should be attempted. Surgery is restricted to patients with very severe symptoms.
Comments
Review of chronic constipation from prevalence, pathophysiology to treatment schedule.
---
---
This blog post is an extract of the Science Alert from June 2017 (76040-USX-1706)