On Tuesday, February 9th the ACCT Webinar: Transanal irrigation (TAI) – a solution for constipation and fecal incontinence took place. During one hour we heard Professors Jan Tack and Anton Emmanuel together with Clinical Nurse Lead Bev Collins discuss how Transanal Irrigation (TAI) could be a possible management option for a wider group of patients and how to improve adherence to the therapy. Here are some highlights from the event.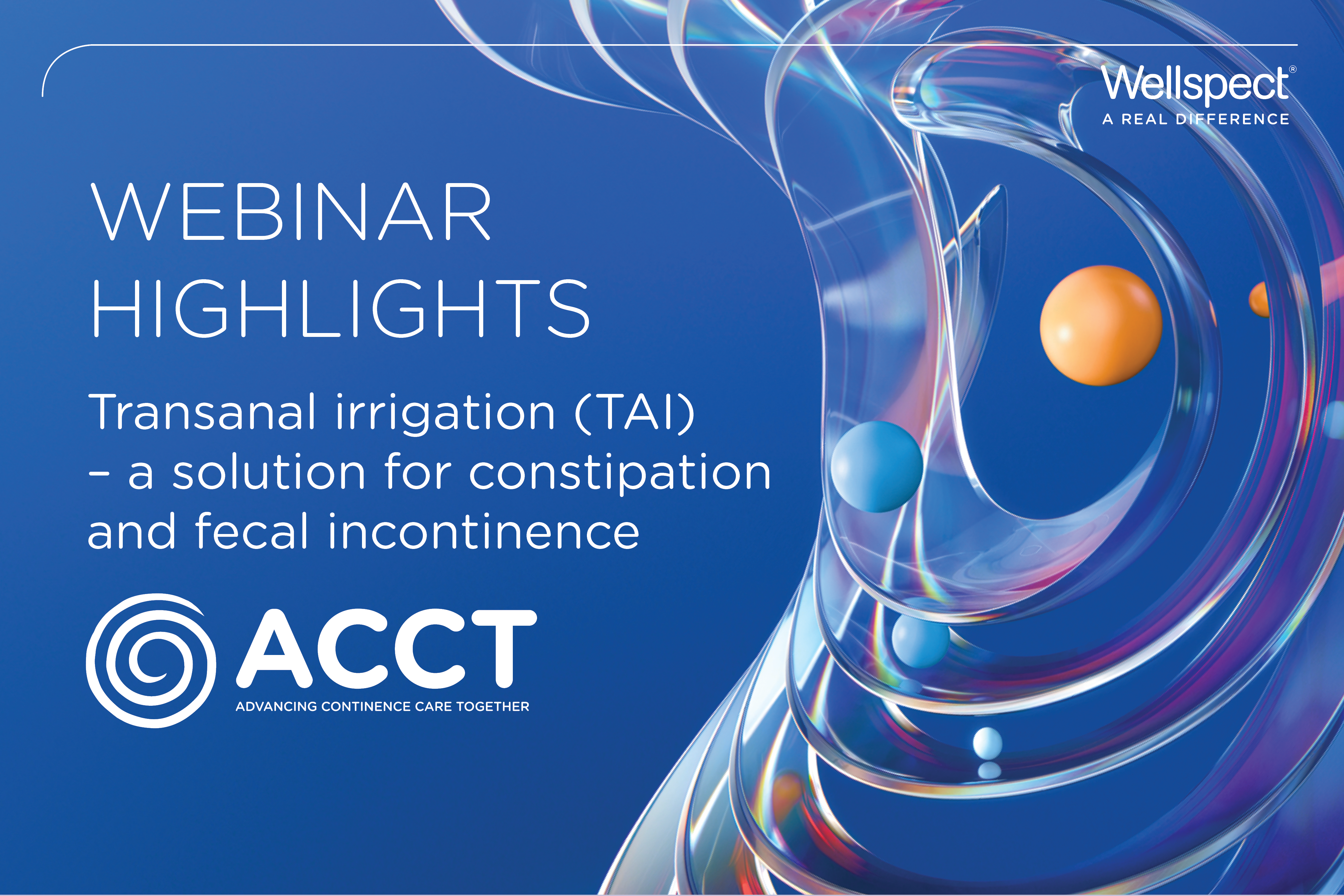 Jan Tack started by telling us about the pathway of care for patients with severe bowel dysfunction, with symptoms of constipation and fecal incontinence, where transanal irrigation (TAI) can turn out to be an effective treatment option. The prevalence of these symptoms is slightly higher in female patients and is increasing with age. Jan exemplified the pathway of care with 3 cases and their way to TAI. Severe bowel dysfunction may have several different causes and may include people with neurogenic bowel disorders, conditions that affect sphincter control or bowel motility disorders. Moreover people with injury or surgery to the rectum, sphincter or bowel, or people suffering from slow transit times, evacuation difficulties or prolapse due to weak or damaged pelvic floor, and finally, idiopathic i.e. no known underlying cause. All 3 cases presented had a long way before discovery of TAI, with several different treatments before starting with TAI. According to Jan, this is usually seen and could be avoided with better awareness and education of clinicians about TAI.
Anton Emmanuel told us that TAI was used already by the Egyptian pharaohs some 5 000 years ago. Since then, however, quite sophisticated systems have become available, offering different solutions tailored to the patient's needs. There is more and more evidence in different conditions as to the benefits of TAI, such as reduced time on the toilet and reduced need of healthcare visits. Another benefit, that is one of the strong motivators for the patient is not having to be dependent on carers. Training was pointed out as critical to achieve adherence to the therapy as well as tailoring a regime that the patient can accept. At introduction of TAI, safety and compliance is pointed out as most important to focus on.
Bev Collins continued to talk about that not only training is the key, but also establishing a good contact with the patient from the start and talk about the details of the regime and its function, as well as the expected outcome. From her long experience she has learnt that the patient's training, patience, and knowledge of what to expect are key to a successful therapy. Patients may have different needs of training and follow-up. It is therefore important to set realistic expectations and to remember that everyone that starts with TAI will start their own, individual journey. A patient who is feeling anxious may need the possibility to get a follow up meeting in his or her home, with an opportunity to ask questions and discuss settings. In the UK, anonymous peer to peer support is another kind of support that has been tried with good result. Also, remember that it may take up to 10 or 12 weeks to establish a really good regime.
Examples of the questions from the audience that were discussed during the live Q&A session were different topics from microbiome to standardized approach when initiating TAI. Regarding the standardized approach, there are some parts that could be standardized such as considering the safety and assessment needed before starting. But, how to practically initiate a patient on TAI with regards to volume of water, additions to the water, frequency and follow-up those has to be tailored to the individual.
Since introduction to TAI is a highly individual process. The Navina™ Smart treatment schedule with system settings will benefit the tailoring of the therapy to fit individual needs. This treatment schedule indicates what steps to take when making modifications of the study subject's irrigation therapy:
Did you miss the webinar or do you want to watch it again? It is available on-demand on our webinar page, which you can access here: