On the 29th of September we had the honor to host three experts in the field of MS specialist care (and bladder/bowel management) for our ACCT Webinar "Bladder and Bowel Management in Relation to Multiple Sclerosis". Our key purpose with this webinar was to increase the awareness of bladder and bowel management in MS patients. Bladder and bowel issues are known to be very common with MS, but often there is a lack of cross functional medical teams to handle these issues.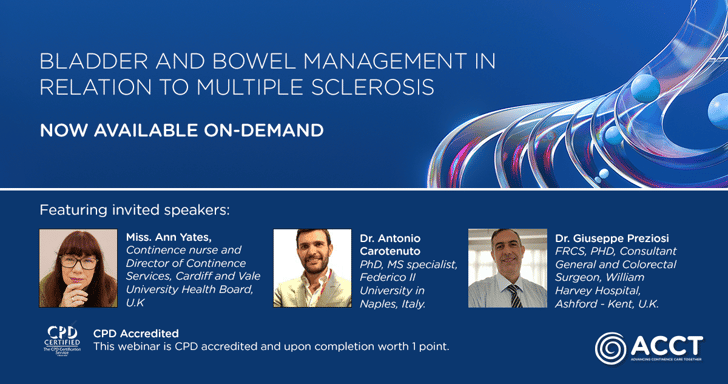 The link between cognitive function and bladder and bowel dysfunction in MS
The first speaker was Dr. Antonio Carotenuto, PhD, MS Specialist, Federico II University, Naples, Italy. Dr. Carotenuto presented a recent study on the interactions between bladder & bowel and cognitive function in MS patients, which is related to cortical control in the brain. In their study, patients with bladder and bowel dysfunction had more progressive disease and had a higher Expanded Disability Status Scale (EDSS) score. Interestingly they showed that bladder and bowel dysfunction were related to impaired cognitive function independently from the extent of physical disability and disease course. Dr. Carotenuto highlighted the importance of breaking the stigma around bladder and bowel dysfunction for improved management in MS patients. He also pointed out adequate training of other professionals as a key for success. By asking the MS patients the right questions related to bladder and bowel issues, a lot can be improved. Via Mentimeter (an interactive poll/survey tool) the audience got to answer if they frequently ask their patients for both bladder and bowel problems or if they don't and in that case, why? The majority answered that they only ask if there is time allocated to this. Dr. Carotenuto highlighted the importance of always asking about bladder and bowel function at every patient contact.
How to deal with continence issues in individuals with MS
The second speaker was Miss Ann Yates, Continence Nurse and Director of Continence Services, Cardiff and Vale University Health Board, UK. Miss Yates presented how to deal with continence issues in individuals with MS. She explained the severe impact continence issues have on MS patients and that it is very common. 1 in 10 report symptoms at diagnosis, which is quite high. By the time they get to any kind of clinic, bladder symptoms are reported by 80% of people with MS, and these numbers are rising to 100% post 10-year diagnosis. Bowel problems will be reported by over 50% of these patients as well. These statistics are three times more common compared to the general population. Typical symptoms with regards to the bladder is urgency, frequency, nocturia and failure to empty. Bowel symptoms may be due to numerous causes in MS, poor transit times, mobility of the gut, use of medications etc. This impedes the signals and bowel mechanisms. Long term constipation is a problem, and this can also lead to faecal incontinence. Miss Yates pointed out the health risk for MS patients who will encounter health professionals who are not be knowledgeable of the symptoms of bladder/bowel dysfunction that are associated with the MS condition. She said:
"It's vital that we are aware of how MS affects the bladder and bowel, as well as being aware of the treatments/management options available that can improve the presenting factors".
Further on Miss Yates also reflected on one of the Mentimeter questions that was directed towards the audience. This question elaborated on the main advantages received when reducing risks of UTIs in MS patients. Miss Yates said many parameters are interlinked. UTI's will make the patient wake up numerous times at night, causing increased fatigue. UTI's and fever can have a negative impact on medications used for the MS diagnosis, as well as relapses. Thereby it's of high importance to reduce the risks of UTIs, e.g. with the use of intermittent catheterization to completely empty the bladder.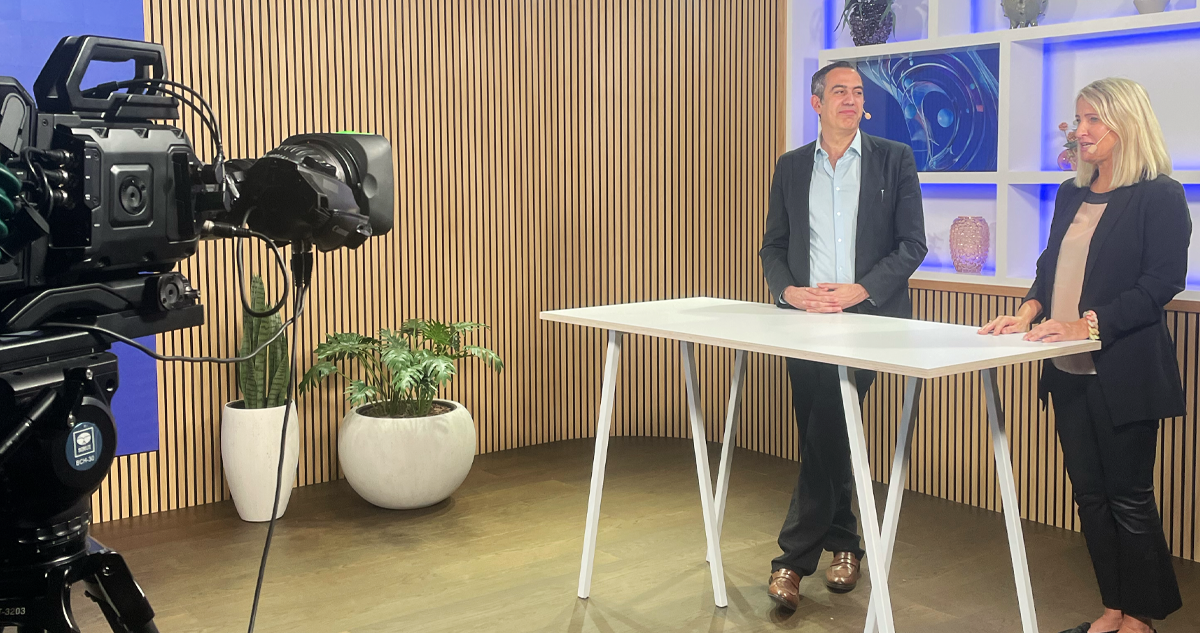 Evidence for transanal irrigation and its effect on the bladder
The last presenter was Dr. Giuseppe Preziosi, FRCS, PHD, Consultant General and Colorectal Surgeon, William Harvey Hospital, Ashford – Kent Dr. Preziosi provided evidence for transanal irrigation (TAI) and its effect on bladder. It may be well known for the audience about positive effects on the bowel, whereas the bladder is less explored, and this was one of the focus areas of this talk. The Mentimeter question revealed that a majority of the audience considered faecal incontinence being the most bothersome symptom in MS patients and something that could be remedied using TAI. Dr. Preziosi declared that the current standard for bowel management in MS patients is a stepwise approach to find a treatment that works best for each individual patient. Most patients want a predictable bowel action that they can control and the most common reason to start transanal irrigation according to patients is insufficient relief with current treatment. Furthermore, he highlighted that it takes time before a bowel routine is working and it is important that the patient understands that. He presented clinical evidence showing that transanal irrigation in MS patients not only reduced bowel symptoms, but also hospital admissions as well as healthcare visits, treated UTIs and reduced the need for stoma surgeries. Interesting results were presented from a recent study showing a correlation between the use of TAI and an increase in different microbial species living in symbiosis with us (microbiota diversity). During the interesting discussion the experts elaborated on how long time it takes to establish a bowel routine. This is likely to depend on the patient, their motivation and individual factors. A realistic goal is within 6-8 weeks. One has to take it to each individual's level and to agree with the patient what is the best initial therapy for them.
The take home message from this webinar is to be aware of the severe impact bladder and bowel issues will have on the majority of individuals living with MS. Care providers need to be aware of available treatment options to solve these problems and make the best outcome for MS medications and the future life for these individuals, who often are at young age and have many years left that they want to spend in the best possible way.
The webinar is now available to watch on-demand. If you haven't seen it already or want to watch it again, you are welcome to do so to learn about these important aspects and how we may help this patient group even further than we already do.
This webinar accounts for 1 CPD credit.